Lifestyle
Scott Cranfield is a PGA Master Coach, he has enjoyed a career coaching beginners through to European Tour Winners, being a pundit on Sky Sports TV, writing books for BOTH golf & to help children manage their minds and emotions. Scott has recently moved his family to the Algarve.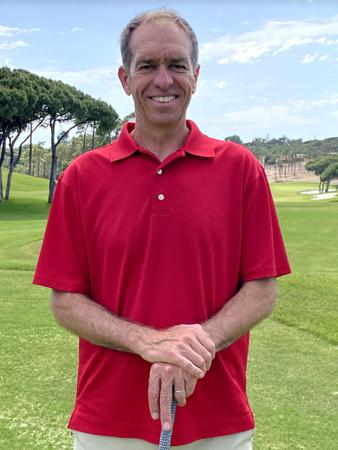 Scott you are known as a golf coach, but you have a different approach to traditional ways, can you tell us about that? Yes, I call it Intuitive Golf. There are many definitions of Intuitive, but my favourite is easy to use or learn without any special knowledge. I focus on helping golfers learn a few essential fundamentals about how their mind and body work, that are not only relatively easy to apply, but they can also make a huge difference to their golf performance, and quickly. Most people are aware of the importance of the golfing basics such as grip set up etc but few ever get to learn these mind and body principles, AND without knowing these you will never be able to access your true potential.
How did you get into this type of coaching? It was really through my own struggles with the game. As a young golfer I played to a good standard and performed quite well in my early professional events, but I soon begin to struggle with my game. Looking back the way I tried to get better actually caused me a lot of problems, of course I didn't understand that at the time but with the benefit of what I know now I would have advised my younger self much differently, but that said if I hadn't had these struggles, I may never have got into coaching and without doubt this is my mission to share and help others, so I am thankful for those struggles!
This sounds like a lonely journey? Well certainly at the time there weren't many people inside of Golf talking about this Intuitive or holistic approach. I gave a presentation to over 1000 golf coaches in 2003, at the time my ideas were considered quite radical which caused a huge amount of interest and questions afterwards.I have found the most valuable lessons I have learnt is from my research outside of golf in particular human behaviour, psychology and anatomy. I love learning about these subjects and then thinking about how that would help a golfer play a more natural game of golf, that ultimately allows them to perform better and have more fun on the golf course, and actually this approach can even help reduce injury because you are working with the body in the way it is intended.
And this diverse approach has led you to other interesting projects? Yes, it certainly has! The work and coaching I have done on human behaviour has allowed me to help many people in a variety of challenging situations. I've been fortunate to learn some vital principles that literally can be life changing in how we manage our mind and our emotions, and yet few people are fortunate enough to ever get to learn these things. Once I became a parent, I really wanted my children to be able to learn these principles and I found the best way of doing this was through bedtime stories. I would take the experiences my children had that day and convert them into a bedtime story, but in the story, I would imbed principles to help them look at these challenges from a whole new perspective. So you might say they were learning these principles in a subliminal way. For many years these stories were only ever kept for our own family and close friends, but after lots of encouragement, I decided to publish The Wise Bear Stories. Last year I created a training course for both parents and children to complement the stories. Pre Covid, I have taken these principles into schools in the UK and even had the BBC come and film a session and air it on the news.
And I understand the mental approach is so key to playing good golf? Is it something that even amateur golfers should work on? For sure, the importance of the mental game cannot be underestimated. From my experience the problem is most amateur golfers don't know where to start. In fact, some of the most fun I have had is delivering seminars on the mental game of golf, because just a simple change of focus or awareness for some golfers can give them an instant benefit and help them unlock some of the problems they have been having for years. I took the opportunity during the recent lockdown to take a programme I created called Mind Of A Champion, which is normally a one day seminar and turn it into a 10 module online program. It gives golfers a step-by-step guide on how to develop the optimal mindset for golf.
You have recently moved your family to the Algarve, what are your plans here? Yes, with how the world has changed over the last 18 months, it became a good opportunity for us to try living somewhere different, something we have discussed many times, and if you're a golf coach, where better than the Algarve! Some of my consultation and coaching work has now gone online through platforms like Zoom, so of course I can do that from anywhere in the world, but my major focus is to develop a three day golf school called The Intuitive Golf Experience where I will work with a limited number of golfers to share with them what I believe are the key principles to help them get the most out of themselves and be able to play a consistent and natural game of golf. I am partnering with Your Golf Travel to bring golfers from the UK, Ireland and other destinations to join me at Quinta do Lago at different times throughout the year.
What type of golfer is The Intuitive Golf Experience for? Because it is based on fundamentals of how the mind and body work, it really does apply and work for all standards, however I think it's most likely going to suit the golfer who is frustrated and feels like they have tried so many things but nothing seems to help them long term. Maybe they are tied up in swing thoughts and can't seem to ever play with a quiet mind. This type of golfer would benefit hugely from learning these fundamentals.
How can somebody find out more about this program? If they go to my website www.scottcranfield.com and look under the tab Work With Me where they will find more information and a video from me explaining more.